New Musical at the Playhouse Has Unique Family Pedigree
October 5, 2023
by Louisa Hufstader, Vineyard Gazette
Island singer-songwriter Michael Mason spent more than half a century writing his musical play Billy Baloo, which opens Friday at the Martha's Vineyard Playhouse.
After Mr. Mason died in February, his son Willy Mason took over the task of adapting the massive and detailed script — subtitled A Musical Tale of Love, Gold, and Beavers — for a playhouse production.
We'll get to the beavers later.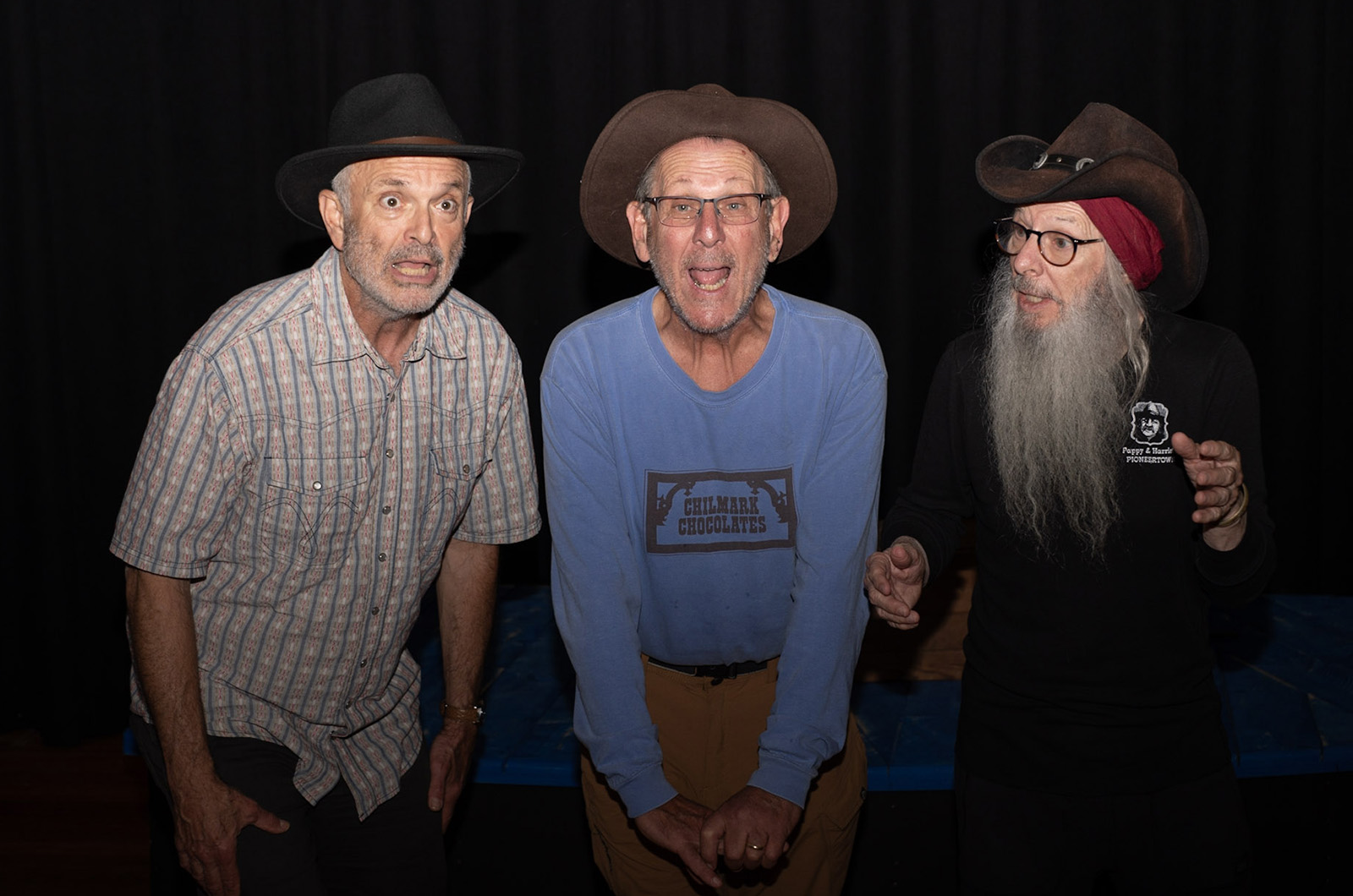 "I cut the characters down from 30 to seven, and I cut it down from three acts to two, and I took the locations from like 20 different sets to five… just to make it feasible on a small stage," said the younger Mr. Mason, who also plays the title role in his father's rollicking Western tale.
Billy Baloo — described in the show as a "floater," who isn't quite a drifter but won't quite settle down either — began life as the aimless title character in an early-1970s song written by Willy Mason's mother and Michael Mason's wife, singer-songwriter Jemima James.
"It was a strong song, but it was a strange song and it just came out," Ms. James recalled during a Gazette interview at the playhouse this week.
The song, later recorded for her album Jemima James at Longview Farm, struck a chord in Michael Mason that resonated for the rest of his life, Ms. James said.
"That character really got to him," she said. "We talked about this before he died. He felt that he was Billy Baloo, on some level, and that's who he thought the song was about. And I think he was right."
By the time their first son Willy was born, Michael Mason was well into the process of writing the musical.
"It was like this fun, alternate universe that was always hovering at the edge of consciousness," Willy Mason said.
"It was really fun to be around real tape machines. Dad's main instrument of choice for the demos was a small Casio keyboard, and as a kid I loved the sound of that," he added.
Willy Mason would grow up to become an acclaimed singer-songwriter and recording artist in his own right. He also, perhaps inevitably, grew up to play Billy Baloo — Mr. Mason's first dramatic role since his middle-school years in West Tisbury, although he's appeared on countless stages as a working musician.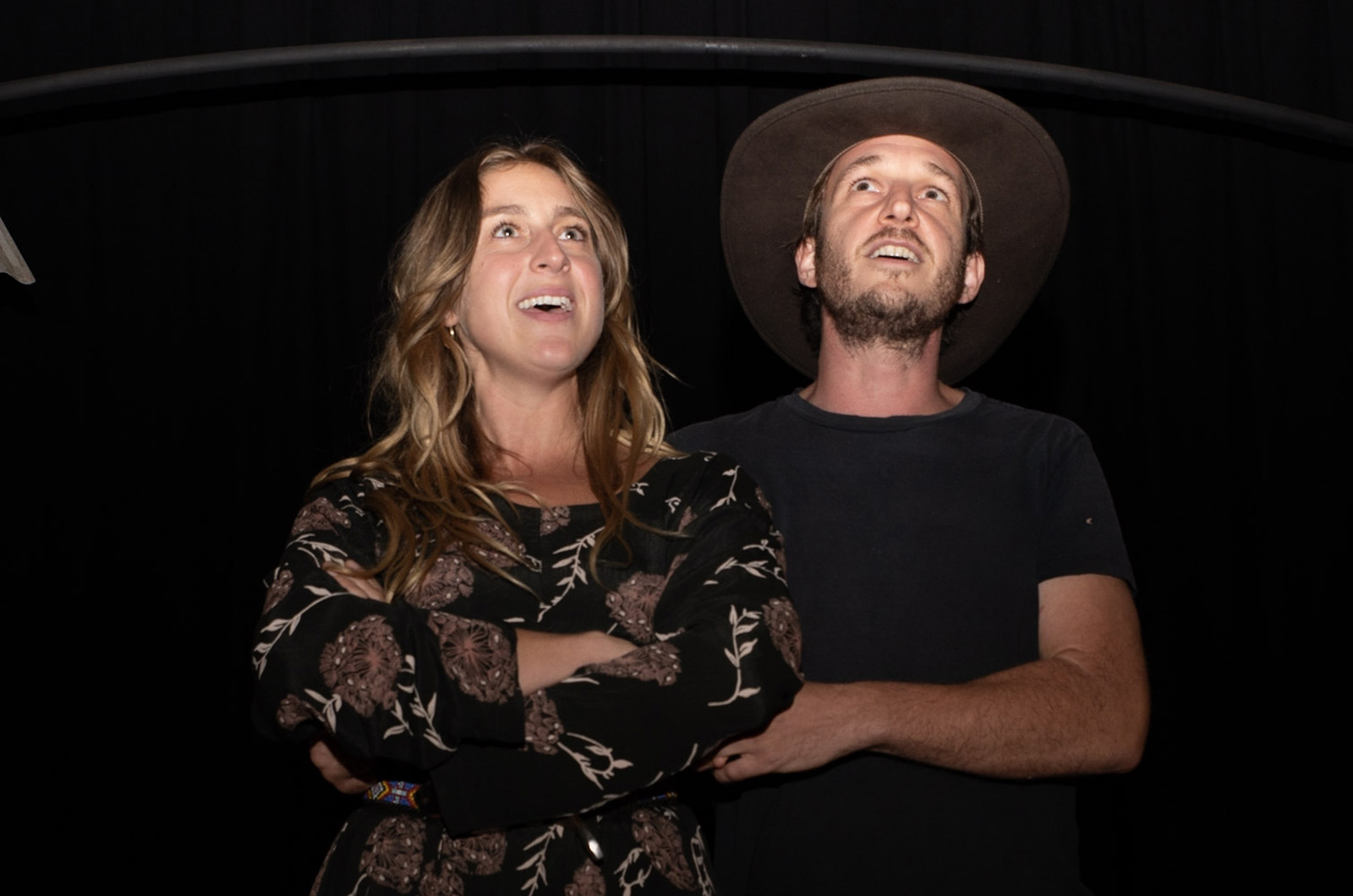 The part, opposite Islander and recording artist Lexie Roth as the plucky heroine, has Mr. Mason dancing as well as singing his father's songs, along with one he wrote for the show himself.
Other singing and dancing cast members include stage and screen actor Jonathan Lipnick and playhouse regular Paul Munafo as gold prospectors, alongside California-based musician Phil Lee, who is making his acting debut after a long association with the family.
Vineyard Haven storyteller Ty McDonald plays a silver miner, and film and television actor Jessie Pinnick makes her Island debut in Billy Baloo.
Willy Mason's brother Sam Mason, a filmmaker and animator in New York city, has created light projections for the production, which is set in a Colorado mining camp in 1879.
Ms. James said Michael Mason grew fascinated with mining history after visiting Leadville, Colo., near her childhood home of Aspen.
"He was always a history buff," she said.
Set in the made-up Solderville, Billy Baloo's original script delved deeply into not only mining culture but geology, metallurgy and labor history, among other topics that mostly had to go by the wayside for this production, Ms. James said.
"The story was fully formed by Michael, and then Willy beautifully rewrote it and brought out the best," said Ms. James, who also praised her son's work in developing the characters.
"Mike… was more interested in things that happened in history," she said.
Playhouse executive and artistic director MJ Bruder Munafo is directing Billy Baloo — the first time she's done so for a musical since Falsettos, in the mid-1990s, she said.
"We're having so much fun," Ms. Bruder Munafo said, during a quick rehearsal break Wednesday.
Island Community Chorus director and church organist Bill Peek, who also plays guitar and banjo, is Billy Baloo's musical director, with a small live orchestra featuring Eric Johnson on bass and Geordie Gude on harmonica.
"It's a great show, and I love the music," Mr. Peek said.
Written in a variety of song styles, Billy Baloo's production numbers include the gospel-quartet harmonies of Rollin' (Without a Tip Man), the classic stage-musical scene-ender Oysters and Paté and a backwoodsy holler that brings those beavers into the story, where they will play a pivotal role.
Billy Baloo opens on Oct. 6 , with further performances on Oct. 7, Oct. 10 through Oct. 15 and Oct. 17 through Oct. 20, all at 7 p.m. For more information: mvplayhouse.org.